Loco Bost
The LOCO BOOST  now in version 2 (GOLD SERIES) a Booster with with some special features.
It has 2 channels, one Clean which to get a clean but warm tone without sound coloration. In this channel the VOLUME  controls sets the output level of the effect. The PRESENCE control increases or reduces the overall brightness of the effect.
The second channel  Dirty , takes us from slightly colored and full bodied sound, like a "Screamer" to intense saturation with a lot of harmonics and overtones. The GAIN control only works on the Dirty Channel. This pedal works very well in every style of music.
Loco Drive
The LOCO DRIVE (now in version 3 ) is a 2 channel Overdrive which gives us from slightly saturated sound to a dense but transparent overdrive / distortion.
It has 3 control knobs: DRIVE, TONE AND VOLUME.
It also has a 2 positions switch SMOOTH and GROWL. The first gives to us warm vintage sounds without losing the clarity and attack of the note even putting the drive ay high values. The second adds more grain to the saturation and the feel and dynamics of vacuum tubes without loose transparency.
Smoking Boost - Sergio Sancho Sig.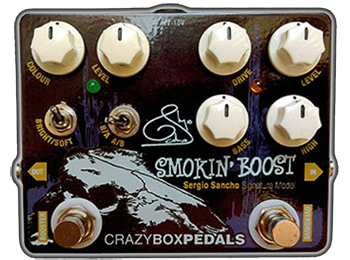 After months of work with the renowned Spanish guitarist Sergio Sancho, the SMOKIN' BOOST pedal sees the light. 3 organic channels in a compact box with tons of textures.
At right a super versatile overdrive /distortion gives you thick, warm tones to sharp and intense distortions. With Bass and Treble EQ for more flexibility. On the left two separate clean boosters Soft or Bright that can be selected with the toggle switch.
The first, Soft, brings a warm, thick clean sound very good to increase the volume or use as PRE without changing the color of the sound. The second also transparent but with more bright and percussive ideal for boosting solos or country-fingerpicking stuff when we use the Colour control to accentuate the mid-high frequencies.
The A/B-B/A swith allows you to change the order of two channels
As added option to Overdrive channel, internally this pedal has a micro trim potentiometer to control the OVERALL GAIN, and choose how much drive we need in the drive section. This makes it usable for almost any style up to intense high gain hard rock.
The SMOKIN' BOOST originally was designed to work in conjunction with more pedals and get the maximum number of sonic textures, but in the process we have discovered that can be used perfectly as a pedal solo on any amp, clean or dirty.
Vargas Blues - The Tone Box
The Vargas Blues Band Dual Overdrive Signature has been created in close collaboration with world- renowned guitarist Javier Vargas to get the best "tone" or both rhythmic guitar solo.
When Javier started using our LOCO BOOST, loved his Dirty channel requesting more prototypes with higher gain that fitted in his playing but with a vintage tone.
From here and working with him began to develop a pedal that fulfill all your requirements. This little box delivers all kinds of sonic textures from a clear and clean sound of blues rock to dense distortions.
Two independent overdrives with different shades that can be activated together for a powerful sound of hard rock. It has 3 controls per channel, DRIVE, TONE and LEVEL, and a small switch lever 1 > 2-2 > 1 to change the order of summation of the effects.
Specially designed to achieve a "FAT" and rich sound based on single coil pickups guitars, retains all the clarity and punch even with humbucker pickups and allows to keep them from creamy sounds bluesy massive rhythmic hard rock and heavy sounds kind solo if we combine the 2 channels.
This pedal also works very well for crunchy sounds typo country thanks to its large dynamic volume changes in the instrument response. You can hear this pedal in the last work of the Vargas Blues Band "HEAVY CITY BLUES ".
Pedals in stock
Loco Boost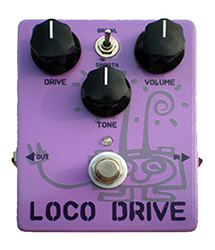 Loco Drive